Phoenix Suns, 1992-2000
Let this be your first lesson: the 1990s loved the color purple. I also love the color purple. Regardless of how you feel about the upstate team's use of orange and purple, Dan Majerle makes the combo absolutely magical.
Toronto Raptors, 1995-1999
If there's one piece of 90s nostalgia I'm glad is coming back, it's dinosaurs.Or rather, the presence of dinos in popular culture.T-Mac is showing exactly why; they're fierce creatures who also respect the NBA's dress code. That raptor can rock a jersey. Both McGrady the Raptor and the raptor visible on his jersey, that is.
Cleveland Cavaliers, 1997-1999
Shawn Kemp was fat, and these jerseys were phat. At least to me. I know the mix of orange, baby blue, and black may remind some of a drunken Halloween from hell, filled with black licorice, candy corn, and cotton candy. For me, however, it reminds me of when the Cavaliers were still terrible. Much more comforting.
Houston Rockets, 1995-2003
A cartoonish logo and pinstripes? That's 90s basketball jerseys in a nutshell. How did the Rockets jump from the classic red and yellow look to this? Is it a coincidence that they went from winning back-to-back titles with their old look to suffering a drought? The answer is yes, it is, because Michael Jordan happened to be playing at this time. Duh.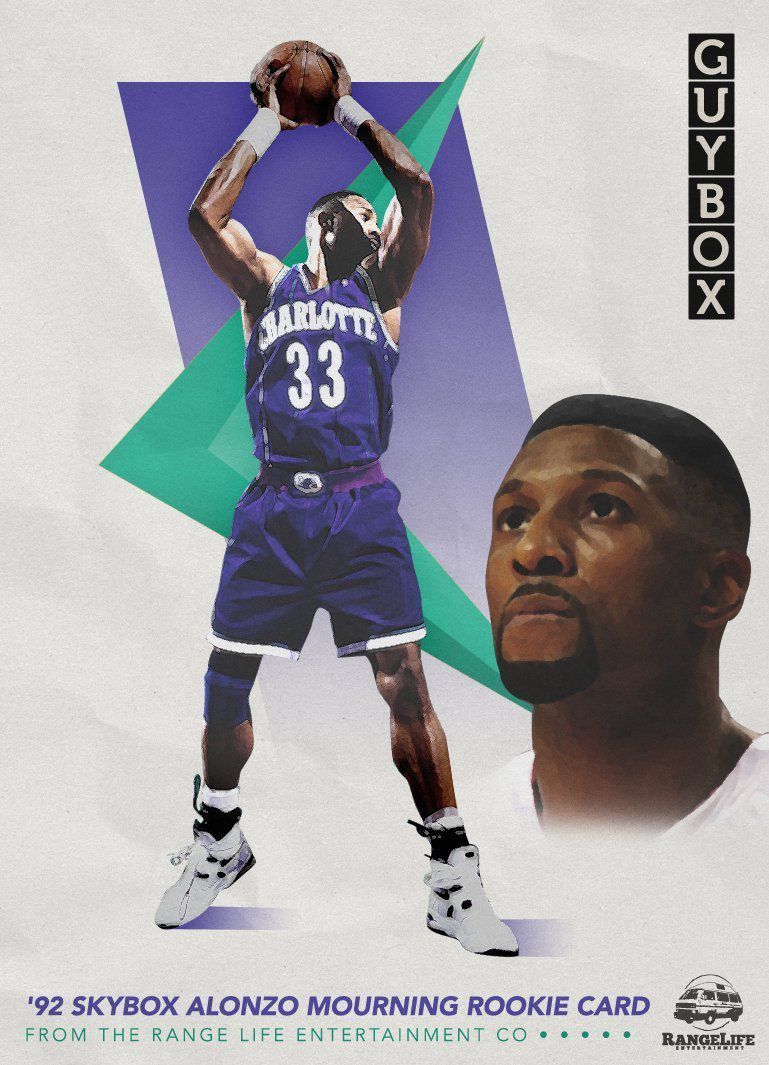 Charlotte Hornets, 1994-1996
Even the floating head of Alonzo Mourning appreciates this jersey, which features four differently-colored pinstripes, as well as the violet purple. That purple is the stuff that poems in medieval times were written about. Look how it shines and captures your attention! Some queen was definitely beheaded while wearing a gown this exact same shade of purple.
Vancouver Grizzlies, 1995-2000
Big Country Bryant Reeves with the big blocky font! Seriously though, I love whatever shade of blueish-green that is, and I've never seen it duplicated anywhere else, except when it comes to Vancouver Grizzlies-related memorabilia. This color belongs in the mainstream. Can a rainbow make this color? Hell no it can't. Mother Nature, for once, must bow to humanity's color palate.
Milwaukee Bucks, 1995-2000
Dan Patrick was such an icon at one point, he got his own card series. His face really pops on that chrome. Anyways, my favorite thing about this jersey is the deer, particularly because it's acting just as a deer would. Standing right in the middle, staring right at you, too stupid to know it's on a jersey in the middle of a basketball game. Such a clueless animal.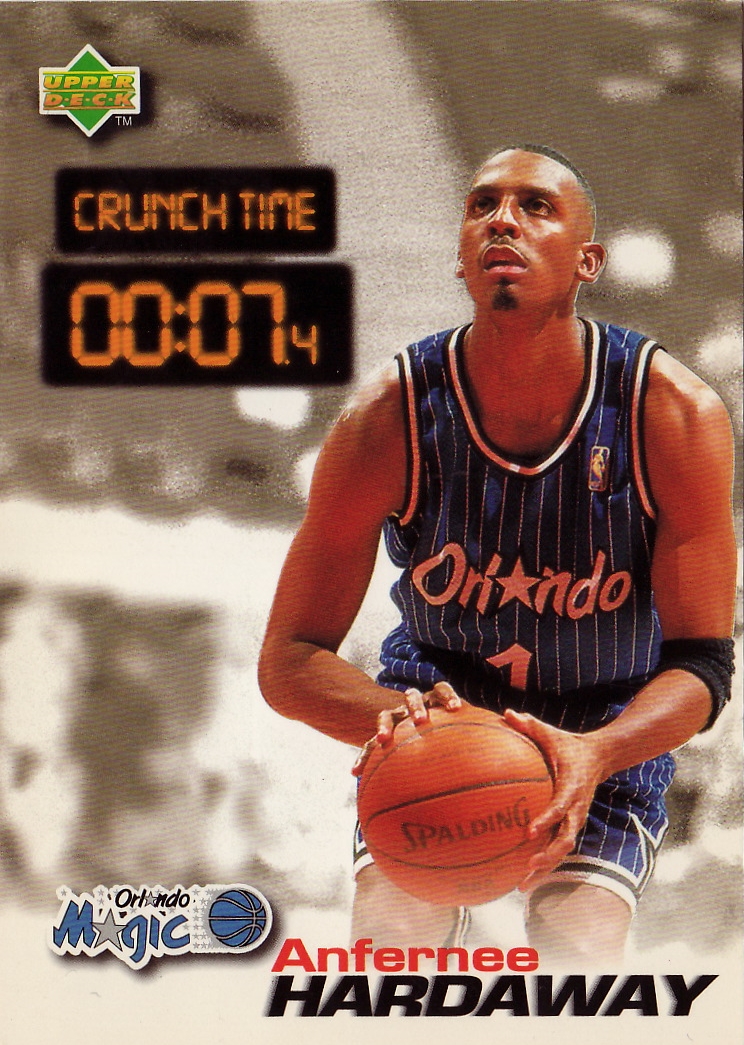 Orlando Magic, 1989-1998
The number font on these jerseys resembles what can only be described as "urban comic sans". And the pseudo-cursive of the team name? It's not appealing on paper, but it works, and it carries its own energy, much like the name "Orlando Magic". It gets you excited, in that corny, Disney kind of way. That's the aesthetic Orlando really goes after.
Detroit Pistons, 1995-2001
Another perplexing change in palate for a team with a simple, iconic look. Going from the all-American blue and red to this teal, orange, and black monstrosity cursed the Detroit Pistons, and immediately destroyed both of Grant Hill's knees.
Atlanta Hawks, 1995-1999
What makes this jersey such a winner (aside from having "greatest name ever" candidate Mookie Blaylock wearing one), is the use of the fade from black into red. Throw in the flying hawk, with its wings arching around the sides of the player, and this jersey is still ahead of its time, even today. More fades in jerseys, please.
Utah Jazz, 1996-2004
Ah, the gorgeous purple mountains of Utah. Where jazz music is explicitly forbidden, and where basketball shall always be welcome. The Jazz made their first of two back-to-back Finals appearances when this jersey debuted, which further proves that if your jersey had purple on it, your team was going to be sitting pretty. It's a royal color, dammit!