Posted: Monday, October 22, 2018
Gamecock Central Gift Card Giveaway
Three $100 gift cards to Garnet & Black Traditions!
The deadline to enter was 11:59 p.m. EDT on Sunday, Oct. 28, 2018.

The winners are Amy M. (29203), Paula L. (29681) and Clay K. (30501).
Celebrating 20 Years! Founded in 1998, Gamecock Central provides in-depth and insider coverage of South Carolina Gamecocks recruiting, football, basketball and baseball, and is home to The Insiders Forum.
Join us as we continue our celebration. This week,
three lucky fans
will win a $100 gift card to Garnet & Black Traditions, which can be used
online
or in store (Lexington, Cayce).
To enter to win, simply complete the following form. Thanks, Go Cocks and Spurs Up!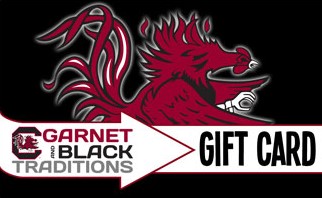 Thank you from Gamecock Central!
A message from Gamecock Central founder/publisher Brian Shoemaker
Crazy Start
It's hard to believe, but Gamecock Central was started as a hobby.
I started the site in 1998 as a way for Gamecock fans to communicate with each other. Who remembers an instant messaging program called ICQ? Not many, I'm sure, but that's what started it all.
Building the site immediately turned into an all-encompassing passion.
Today, running the site is my full-time job, and we have four full-time employees and approximately 10 part-time specialists.
I remain the sole owner. That's pretty good for a guy who failed his first computer class in college.
It might be cliche to say -- but it's true -- that I'm living the American Dream. My family and I are extremely fortunate. My wife prefers to say we're blessed.
Passion is our Core
I very much believe the reason for our existence will always separate us from other media outlets.
I had no thoughts of it becoming a business. The first attempt at generating income didn't occur until June 1999 -- 10 months after I started the site -- when ads were placed on the site.
Gamecock Central's foundation -- our roots, our basic DNA -- will always be different than websites created with the sole intent of making a profit. Certainly, we have a bottom line, but all decisions aren't based on it.
Quality and Commitment
Of course, passion alone isn't going to satisfy our subscribers.
We have a tremendous team of insiders, analysts and photographers. They're all very skilled and nobody works harder. Together, they provide the most in-depth, accurate and professional coverage of Gamecock sports and recruiting.
Simply put, our team is second to none.
And we have The Insiders Forum, our community of Gamecock fans. It's where the most passionate fans hang out and discuss Gamecock sports and recruiting. Some are positive, some are negative and some probably yell too much, but they all love the Gamecocks.
Your Home for Gamecock Sports
What do you get when you combine our unrivaled coverage and our passionate community?
An online home for thousands of hardcore Gamecock fans.
I'd like to personally invite you to join Gamecock Central so it can be Your Home for Gamecock Sports!
Join us now for great information and tons of fun. Click here to get started.
GAME!